Matthew Fitzgerald is a well-known farmer in Minnesota for his work with beginning farmer policy issues, but most of his time is spent stewarding land and raising healthy organic grains — with an eye toward our increasingly volatile climate.
Matthew grows corn, soybeans, wheat and edible peas and beans near Hutchinson, Minnesota. The farm has its origins in the Fitzgeralds' partnership with Mabel Brejle, a woman who helped the family purchase her 200-acre farm 22 years ago.
Today, Fitzgerald Organics has grown to 2,500 acres. Matthew and his father, Joe, have transitioned all of the acres they rent from conventional (synthetic fertilizers, pesticides and herbicides) to organic crop production, where they use manure and crop rotations to improve fertility. Their farming operation is spread out 45 miles; as a result, a lot of time is spent hauling equipment back and forth. Matthew says he has "worked really hard to try and get relationships closer to home with fliers, newsletters and cold calls," to little avail.
"We live and breathe being a tenant farmer. One of my job descriptions is landowner relations. We rent from seven different landowners, which means seven different leases, seven different personalities, seven different landowner motivations and seven different dynamics. With a three-year organic transition, we need at least five years of security.
"It keeps me up at night thinking about the possibility of losing rental property, either because they want to sell or rent to the highest bidder on a short-term basis. As a beginning farmer, I don't have a lot of cash. I've been able to purchase two farms using beginning farmer USDA loans. I've now maxed out my loan limits, and if a farm comes for sale, it would be really difficult for our family to purchase it.
Matthew is renting two parcels from AcreTrader, a company that purchases land and holds it for seven-10 years and then sells. "I hope I will be able to purchase both parcels at the end of seven years. We're only about a year into a relationship with each other, but AcreTrader is a powerful tool, because they move quickly when I contact them about land that is up for sale. AcreTrader provides me security and a long-term lease. Under their contracts, I have a right of first refusal [first chance to meet someone else's bid]. I would most like to see a purchase option [first option to buy] in AcreTrader contracts in the future.
"My hope is that by the time I retire, I own farmland, so I have money to retire with. Farmland ownership is the primary path for equity and stability for our farm and our family."
Given beginning farmers' barriers to accessing land, Matthew has this challenge to farmland owners: "You control a rare resource, and you want to see it stewarded. If you're not the farmer, find one and, if you can, sell it to that farmer. It will change lives. If you can't or won't sell, please consider a long-term lease that allows farmers to implement regenerative practices. I dream of opening up the Hutchinson paper and seeing this ad:
Wanted: Regenerative farmer. Selling 80 acres of beautiful Midwest farmland. 50% of appraised value, contract for deed. Buyer must be primary farmer, provide comprehensive 10-year plan on how you will use land and opportunity to fight climate change. Accepting applications until August 30th.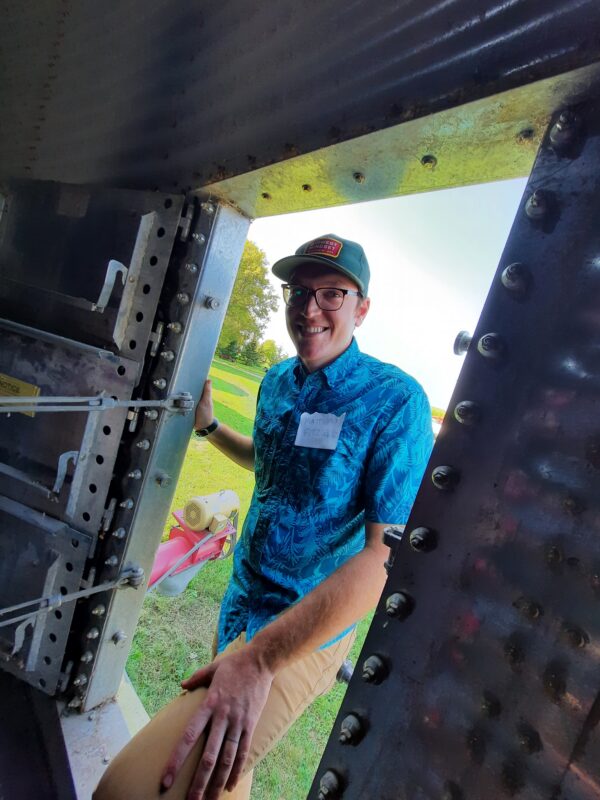 Organic agriculture and the climate
Organic agriculture has proven benefits for soil health, as the Fitzgeralds have found in their own operation. "We track improvements in soil quality, and we can demonstrate increased micronutrients and soil organic matter on all of the farms. A lot of time, love, sweat and money going into these farms, so we need as long and as stable a relationship as possible from landowners."
National assessments of the overall climate impacts of organic farming range from substantial net greenhouse gas mitigation to a net increase in agricultural greenhouse gases from organic production, according to a report from the Organic Farming Research Foundation.* Says the report:" Best organic management practices can build [soil organic carbon] and soil health, and potentially reduce [greenhouse gas emissions]. However, further research, development, demonstration, and adoption of sustainable organic systems is needed to optimize net climate impact."
Fitzgerald Organics is on that journey to a more sustainable organic system, a system that moves beyond the minimum three-crop rotation needed to become certified organic. "In our years transitioning to organic, we have grown alfalfa but that market has become challenging because the dairy we sold it to went out of business. We have drilled in dried yellow peas and then followed up with winter wheat, along with cover crops and manures. We're getting three years of continuous cover with a little light tillage in between."
Reducing tillage is a goal for Matthew. This year, he plans to learn more from an Indiana farmer who is working toward no-till and no off-farm inputs. He's also interested in talking with a Minnesota farmer who grows corn, sunflowers and dried yellow peas and is moving toward using compost and no off-farm fertility sources. "He has 60-inch rows, cover crops between the rows and then plants into the cover crop the next year," Matthew says.
Matthew and his wife, Hannah Tjoflat, are working on regenerating the edges of the land they farm. Using a federal grant (EQIP), they are taking 35-40 acres of marginal farm ground at the field borders and putting in a perennial cover five-species mix. They are working with the U.S. Department of Agriculture and the U.S. Fish and Wildlife Service on a long-term conservation easement and debt forgiveness program. They are going to transform 50 acres of farm ground, with wn existing 25 acres of slough, into perennial pollinator and native grassland restoration.
"We're not going to reverse climate change and will have to adapt," Matthew says. "There is so much to learn and figure out. Biblical flood? 30-year drought? Get ready for both!
"2019 was one of the wettest years on record. We really need 21 good operation days in June to successfully manage weeds. We had eight days. It was rainy, wet and muddy, and we couldn't get in to do our mechanical weed control. Then 2021 was the driest year since 1988.
"Drainage tile is needed for the wet years, for aeration and soil structure. Nutrient management is a different conversation. If we have a diversity of crops and of practices, we can be financially prepared for one crop to be a disaster and for one to work well. It's hard to know beforehand which one it will be. We get 27-28 inches of rain, average. That puts us a little too wet for these field peas [dried yellow peas], some of the wheat and the edible beans. These are more successful in drought years. Corn is most predictable in wet years," Matthew says.
"I really like the language I heard at the Climate Land Leaders retreat: We need silver buckshot not a silver bullet to address climate change. We're on a journey toward extended crop rotations, permanent cover, reduced tillage, reduced inputs and perennial crops. No-till is a cheap Band-aid for a complicated system that needs to change
"More windbreaks are essential. Derechos becoming more common. I'll be curious, if our winters get warmer and we don't have hard freezes, we'll see more invasive species, we'll see how that impacts us.
"I've got a lot to learn. Warmer and wetter is our future, broadly speaking. What opportunities come out of that?"
*"Soil Health and Organic Farming" by Mark Schonbeck, Diana Jerkins and Lauren Synder. Ofrf.org