Climate Land Leaders are looking forward to gathering in East Central Minnesota this weekend for the second of our fall retreats (read about our first fall retreat in Northeast Iowa here). Over the course of the weekend the cohort will spend time on forested land and three farms, one of which is in year 3 of starting up as part of Osprey Wilds Environmental Learning Center. It's thrilling to witness a new farm taking shape, in this case on land that's been in conventional row crops until recently, when owners Roger and Ruby Trapp donated their neighboring family farm to Osprey Wilds with one stipulation – that the land stay in production.
Thus began a process of reimagining how the land could be used as a sustainable, educational farm and developing a long-term plan for diverse food production, soil regeneration, carbon sequestration and teaching young people where our food comes from and the critical connections from soil to community to climate.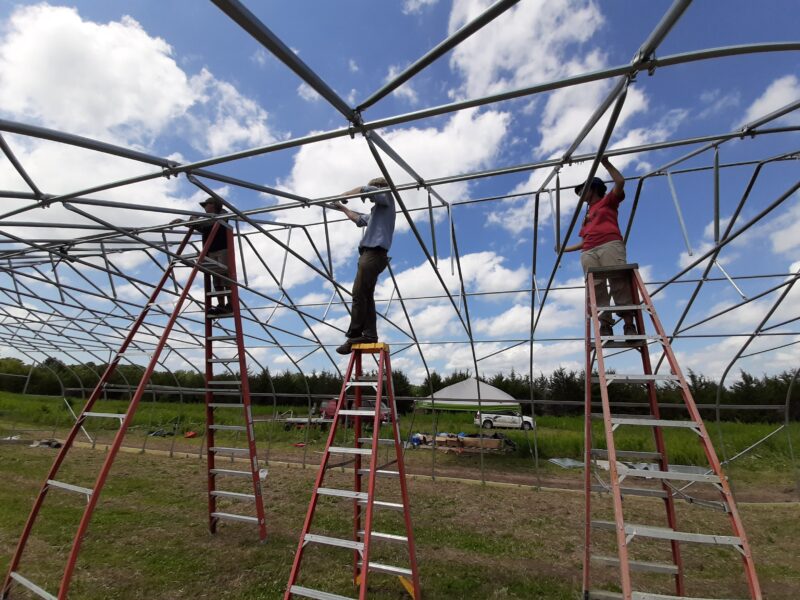 Today Trapp Farm is made up of 42 acres of pasture, 2.5 acres of vegetable production, 22 acres of silvopasture infrastructure and 20 acres of conifer forest. The long-term vision for the farm says Executive Director Bryan Wood is "a multi-level savannah, with silvopasture, fruits, nuts, animals – and roots sucking up carbon." The team spent 2020 getting the initial farm infrastructure in place – adding electricity and a well, planting the pasture (which Bryan describes as "denuded" when they first started) and 2.5 acres of pollinator habitat, constructing a hoop house to extend the vegetable farm season, and installing silvopasture fencing with NRCS grant funding. The silvopasture fencing includes woven wire fencing suitable for grazing sheep; the nearer-term plan is forested pigs.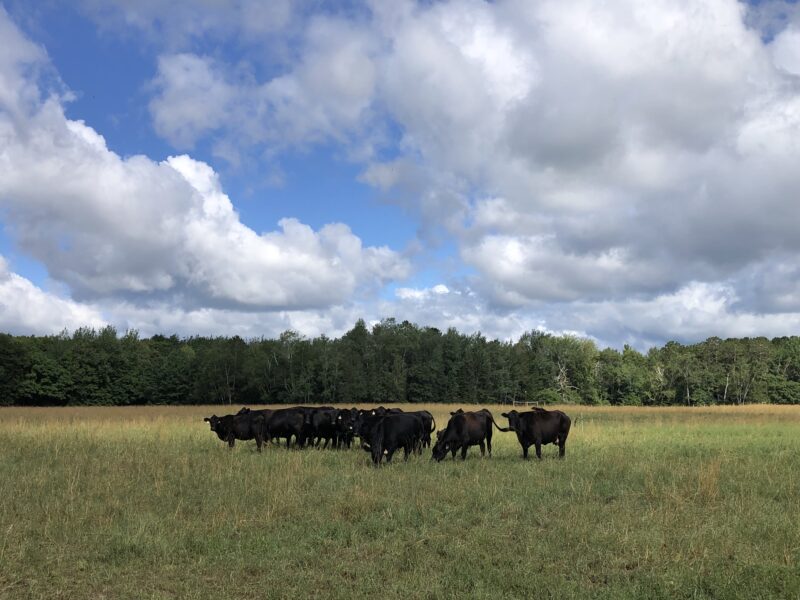 When we visited in late July, there were 11 cattle being rotationally grazed. The pasture has capacity for 25 cattle, and Osprey Wilds plans to serve the beef at their meals in their dining hall in future seasons. In the meantime, they're purchasing grass-fed beef from a neighboring producer, and this fall they integrated chickens into the pasture. The broilers are being raised in mobile, floorless pens that are moved daily. "Not only are they producing meat for our dining hall, these birds are some of the most profound pasture renovators we have. Their manure is rich in nitrogen which really kick-starts growth on worn-out land, and by moving them across our pastures, we're able to jump-start the life in the soil and the growth above the ground" says Joel Barr, who manages the Trapp Farm.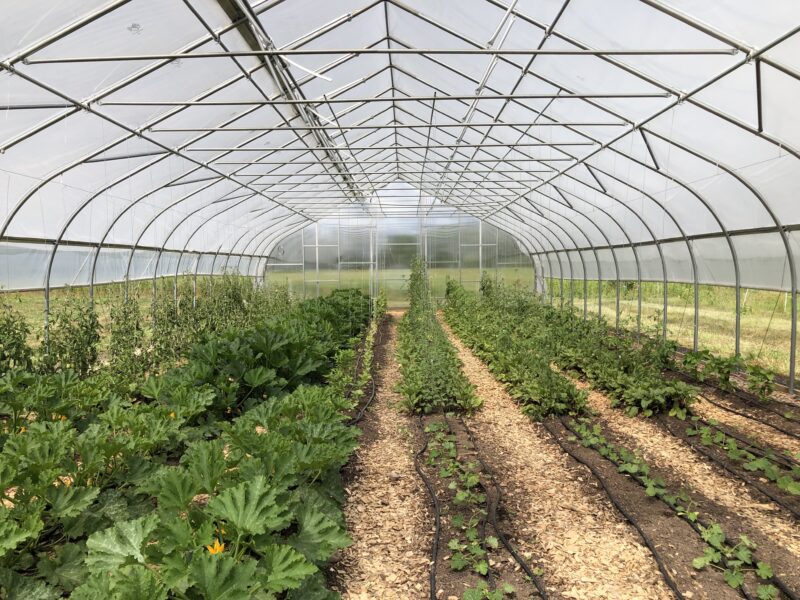 The vegetable farm was established in 2021 and in addition to the hoop house, now has a pump house around the well and a washstand for processing produce. This year it's providing 75% of the produce served at meals during the main growing season. "We aspire to produce what we use," Bryan says. During a typical year, the Dining Hall serves 50,000 meals, which the team sees as a huge opportunity to reduce Osprey Wilds' overall footprint and keep more money in Pine County. The vegetable farm also supplies regional grocery stores.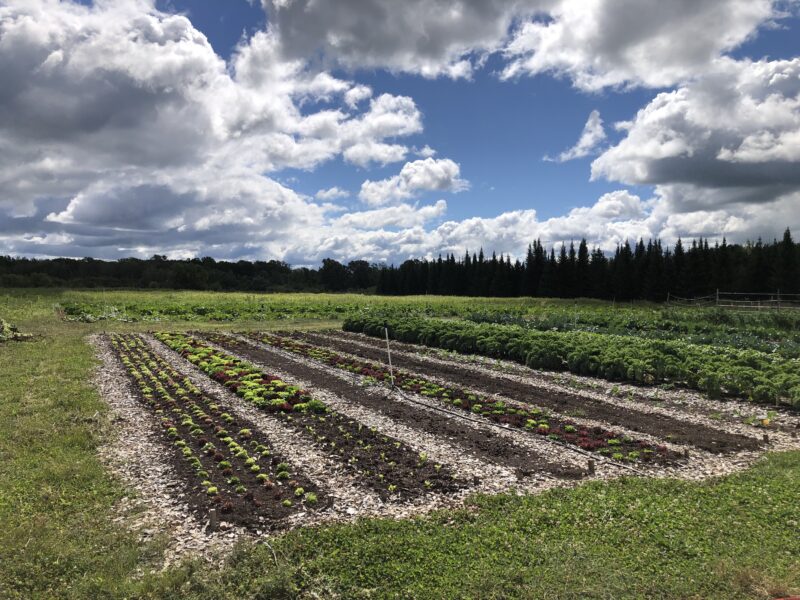 The farm is using no-till methods to reduce soil and nutrient runoff and is committed to not using toxic chemicals or liquid manure in any application on the land or crops. As the land is transitioning from decades of conventionally grown row crops to pasture-grazed livestock and diversified vegetables, the team is focused on building soil health and eager to begin measuring the benefits of perennial forage, grazing livestock, and organically grown vegetables. "If the soil is healthy, then the plants are healthy, and the plants' natural defenses help them resist pests – and food that's grown in a healthy way for soil, plants and animals is good for us as well," Bryan says.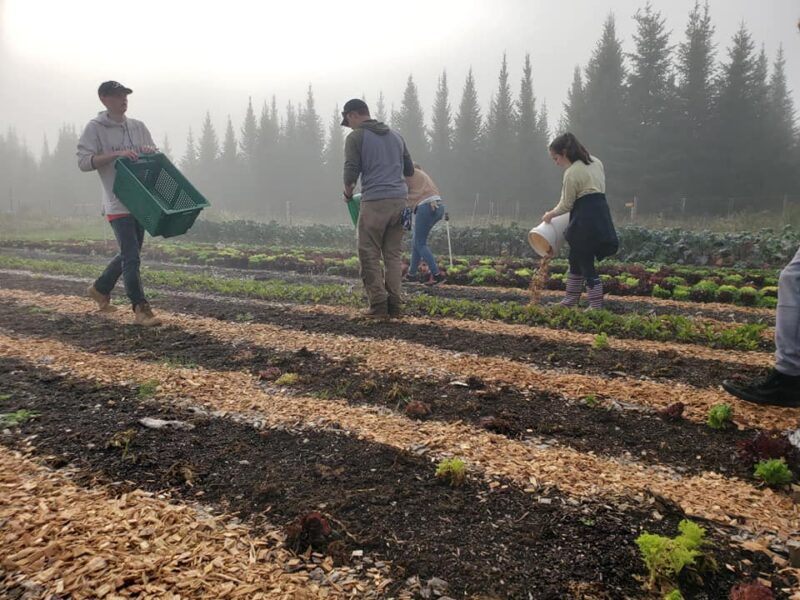 This past summer young people came to Trapp Farm for a 3-day camp experience. As they got their hands dirty and participated in the labor of the farm, they learned about how our food choices make a big impact on our environment and how sustainable farming supports the ecosystems that support us. "By giving people that personal connection to better farming practices, we hope to inspire and excite people to make daily choices that contribute to the protection and regeneration of our ecosystems," says Joel. "We need a sense of urgency and to act now," Bryan says when asked how much they talk about climate change with campers at Osprey Wilds. Connecting young people to the earliest point in our food system is a generative place to start.